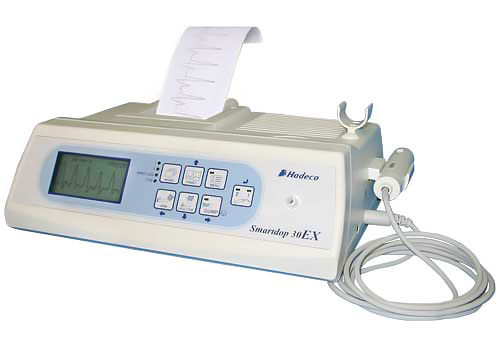 Click Image to Enlarge
The Smartdop® 30EX is a portable, bidirectional vascular Doppler with a built-in cuff inflation port and integrated pulse volume capabilities. The Smartdop® 30EX performs a wide variety of arterial and venous studies for the diagnosis and monitoring of vascular disease.
Smartdop® 30EX features dual probe ports, automatic calculations of ABI and TBI ratios, an integrated printer, real-time LCD waveform display and Smart-V-Link software compatibility for EHR integration and full-size test reports.
---
Features & Capabilities
Performs Doppler arterial waveforms and pressures for Ankle Brachial Index studies
PPG probe available for toe pressures and venous reflux studies
Built-in cuff inflation port
Automatic ABI and TBI calculations
Integrated pulse volume capabilities
Software compatiblity (Smart-V-Link® software supplied separately)